This article is coming way sooner than I intended to write it, but so much has happened this week in the electric vehicle world that I felt it necessary to cover it. As you'll recall from earlier in the week, New York Times reporter John Broder test drove a Tesla Model S from Washington, DC to Boston to find out how well Tesla's supercharger network works, and claimed to have run out of power on the way. I updated my post with Tesla CEO Elon Musk's reaction already, but he's now backed up his allegations that Broder lied about his article with facts. From Musk's blog about Broder:
In his own words in an article published last year, this is how Broder felt about electric cars before even seeing the Model S:

"Yet the state of the electric car is dismal, the victim of hyped expectations, technological flops, high costs and a hostile political climate."

When the facts didn't suit his opinion, he simply changed the facts. Our request of The New York Times is simple and fair: please investigate this article and determine the truth. You are a news organization where that principle is of paramount importance and what is at stake for sustainable transport is simply too important to the world to ignore.
Following the Top Gear test where Jeremy Clarkson claimed to have run out of energy (even though the car had 45 miles left on its battery, tests showed), Tesla now turns on extensive data logging for every journalist test drive. It appears Broder didn't know about this when he decided to write his article. The major facts from Musk's investigation from the car's "State of Charge" log show that Broder's test car "never ran out of energy at any time." He claimed that the Model S battery was drained completely at one point and had to be towed on a flatbed truck. The data log also points out that the he was going from 65 to 81 miles per hour, while Broder claimed to have set the cruise control at 54 mph, with periods of driving as slowly as 45 mph.
Musk's also claims that Broder lied about the amount of time he actually charged the car. At one stop he specifically writes that he charged the car for 58 minutes on his second stop, where the log indicates that he was on the Supercharger for just 47 minutes. Musk claimed the car was charged to 90 percent of capacity on Broder's first stop, 72 percent on his second and just 28 percent on his third –  despite him claiming to have being super careful and nervous about making the charge.
Broder challenges Tesla with a similar argument we've heard EV critics here, that until electric cars are as "easy" as gas cars to fill up, then the hassle of finding a charger and taking the time to fill up negate any benefits the car has. The problem with Broder's logic and this critique is that when you buy any car, whether its gas, diesel, CNG, or electric, you're going in knowing that you need to plan your long trips around stations that have the required fuel. I've been on several long distance trips with a friend who owns a diesel where we went out of our way to find a station (in the US diesel is far less common). Broder claims that the test was primarily to show how the supercharger network functioned, so he decided against using any other EV charging stations, of which he passed dozens. If you really owned a Model S and were planning on a long distance trip from DC to Boston, you'd most likely leave with a full charge, Broder didn't. If your battery was running low, you'd check any number of EV station finding apps, from Recargo to Chargebud to PlugShare, and get off at the next fastest stop and fill the tank up with enough energy to get you to the next station. Further, if you were planning on breaking the trip up, you'd charge the car while you slept, especially if it's cold out, so that the car could condition the battery before disembarking for your final leg– Broder didn't do that either.
I can hear a lot of people still grumbling now that since waiting 30 minutes to an hour to fast charge your car versus the 5-10 minutes a normal stop at a gas station takes is too much of a hassle for long distance trips. There's a few problems with that line of thought however.
Cost: filling up your car with electricity vs. gas or diesel is a winning proposition every time. It costs far less to drive the equivalent distance, often in a magnitude of 3-5x or higher per mile vs a standard car. That doesn't even include the fact that Tesla is offering a one time charge of $2,000 to free charging for its higher end cars. Given the choice of $70K Audi A7 or a $70K Tesla Model S, you're not only going to get better performance from the Model S but the cost of ownership over time will be less for the Tesla. You can use this handy chart from Teslarumors.com to calculate the actual difference. Even for me in New York which has some of the highest priced electricity, it's about 3 times cheaper per mile to drive a Model S than a 40mpg highway car. Finally, for those who keep harping about the fact that you can't get a Tesla on the cheap, we get it– and so does Tesla. Which is why after the Model X, they've publicly stated that they're working on a new ~$30K smaller sedan. tentatively named the Model C. I wouldn't be surprised if you could buy one of these sooner than you could a comparable Saab. At least Tesla was smart enough to start their mass market sales strategy with higher margin sedans to guarantee profits than risked a low margin low sales flop.
Time at Fuel Stations: Yes, it's faster to fill a gas tank to full than any commercially available fast charger in 2013. That will change quickly over time though. But as many EV owners will tell you, the amount of time they spend at charge stations is nill compared to their gas powered cars. For most drivers, you're going to fill up at your home and possibly at work, and that's all you're ever going to need. On top of that, your car will be warm and toasty for you on a cold winter morning, preheated by the grid for you at the time you tell it to be (or conversely air conditioned in the summer). Therefore, the weekly or biweekly trips to the gas station are going to be eliminated. On the occasional long distance trip, you'll plan the trip around whatever fast chargers are on the way, and while the extra hour or two you spend charging isn't ideal, unless all you do is 100-200 miles one way commuting, it's going to be a rare occurrence anyway. The total time over the cost of ownership visiting fuel stations in an electric car for the average driver is going to be less. Not like any of the commenters on the web who whine about charge time have much to do but visit car blogs and spend hours of their life complaining about charging a car they might never own ;).
Infrastructure Improvements: As I've stated many times before, the rate which EV fast charging stations are being deployed across the world, especially the US, is rapidly increasing. While it's interesting to read journalists accounts of charging networks, I prefer hearing how Tesla's own drivers feel about their driving experience (much as I prefer reading what Saab drivers think vs. most auto journalists). I have yet to see any Model S owners who comment on articles or on Tesla's own forums surprised by the range or have their expectations not surpassed by the capabilities of the car. Even on the Verge's recent test drive of a Model S up the California Coast, at a Supercharger station in Gilroy noted how many Model S drivers were already using the 4 month old network and impressed.By the time Saab is ready to enter the EV market, the charging network will be in a much more advanced state than it is now. To base your expectations on ownership of a nascent EV charging infrastructure at this point is completely unfair to the actuality of what it will be like to own one of the first Saab EVs. Just today alone Mayor Bloomberg announced an initiative to put 10,000 curb chargers across the city over the next few years (Hugh, I hope this solves much of your worries as mine about parking a new Saab here).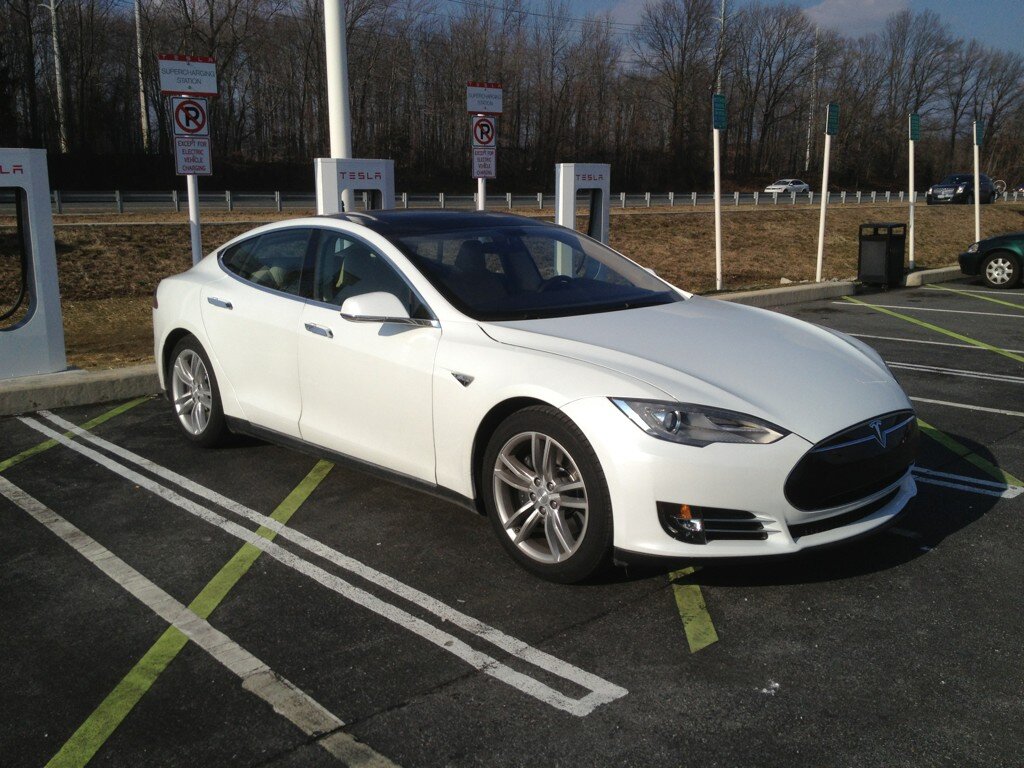 As I write this now, CNN journalist Peter Valdes-Dapena is taking the exact same route for his own test drive, and is posting live-updates to Twitter. You can see him charging at the Delaware station a few hours ago in the picture on the left. While the temperature is ten to fifteen degrees Fahrenheit above what it was for Broder, it's still pretty cold out. So far, no major issues, and I'll be posting his experience with the car as soon as his article is up. He's been leadfooting it apparently and with no issues, so something tells me his account will be different than Broder's.
*UPDATE* 
A rather unspectacular ending.
The car made it no problem, and according to Valdes-Dapena
, it wasn't terribly exciting. Not surprisingly he was trying to be conservative most of the trip to avoid a fate similar to Broder's. However, as he neared the end of the 200 mile stretch from Delaware to CT, he found himself changing his tune.
But as I drove into Connecticut, I realized something amazing. Not only did I have enough battery range left, I had plenty. I had at least 40 miles — more than an entire Chevy Volt's worth of electricity — left to play with. I sped up, cruising over 70, riding in the left lane, mashing the gas pedal just to feel how fast the car could shoot from 65 to 80. I was practically giddy.

In the end, I made it — and it wasn't that hard.
So summing it all up, total cost of ownership and total time refilling your car will most likely be less with an EV than a regular car for most commuters. It just requires you to reprogram your brain and habits about how you interface with your car. For those unwilling to learn to deal, feel free to be a curmudgeon and wait. For those of us ready and excited to make the switch, fret not, it's not as painful as the critics contend. Over time the advantages of EVs will continue to distance themselves with cars. As much as I'd rather be following direct Saab news, what Tesla is going through now directly impacts Saab's future around the world. Whether or not we like it, Saab is now tied to EV technology, accept it and move on. There are important lessons for NEVS to learn about the market and mistakes that the first manufacturers make. As customers, we need to be aware of these pitfalls and as the first Saabs are developed, press that they be dealt with. While there are headaches and discouraging growing pains in the EV market now, hopefully Saab can time their introduction at a pivotal moment to minimize this and take advantage of the increasing upside not only technology improves and costs decline, but infrastructure ramps up to handle the market.