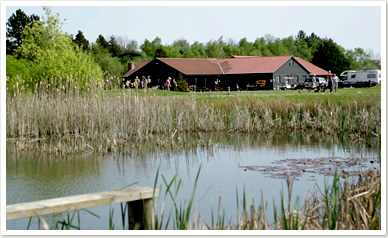 When: 18th-20th July 2014
Where: Haw Wood Caravan Park & High Lodge Leisure, Hinton, Near Darsham, Suffolk, IP17 3QT
'Something for everyone to enjoy' is the theme of this year's National located in the beautiful countryside close to the Suffolk Heritage Coast.  You will all have the opportunity to take part in the various leisure and sporting activities on offer at High Lodge and to choose and enjoy the meal options available.
The location is East Anglia, near the Suffolk Heritage Coast within easy reach of Aldeburgh, Snape Maltings, Walberswick and Dunwich. It is surrounded by beautiful fields packed with wildlife and trees, offering plenty of walks and other outdoor activities. Suffolk is also home to the fashionable resort of Southwold with its pier, lighthouse and the Adnams brewery.
For those who wish to explore this beautiful and historic area of England, local members are preparing 'self drive' excursions to include:-
The market towns of Saxmundham and Woodbridge,

Helmingham, with its magnificent gardens surrounding a moated Tudor hall,

Framlingham, boasting a 12th century castle where Mary Tudor was proclaimed Queen of England in 1553.
The return to the main venue passes by the well-established Shawsgate Vineyard, one of the best examples of East Anglia's flourishing wine industry, which offers tours and tastings.
Alternatively a coastal tour will take in:-
Dunwich, a once thriving port now virtually destroyed by sea erosion,

The unspoilt beaches by Sizewell Nuclear Power Station where the water is always warmer,

Thorpeness and Aldeburgh, a town closely associated with the composer Benjamin Britten,

On past Snape Maltings with some lovely shops, the current venue of the Aldeburgh Festival,

To Orford with its castle, smokery and the possibility of a short boat trip out to the Ness.
Your return could include a visit to Bentwater's Cold War Museum (open Sundays only) housed in a disused USAF command post.
Of course you can plan your own trips, for example:-
To nearby Southwold, the fashionable Georgian resort with its harbour, lighthouse and pier,

Not forgetting the Adnams Brewery,

While further afield is the excellent transport museum at Carlton Colville just south of Lowestoft housing a fabulous collection of old trams, buses and numerous other service vehicles.
Back at the venue on Sunday there will be the beauty contest and prize giving plus further opportunities to meet and chat with both new and old friends and fellow Saabists.
Talking of beauty, it is possible to arrange Pamper Parties at High Lodge (for those who don't want to spend the entire weekend under the bonnet).  For those who like some retail therapy, nearby Norwich and Ipswich offer wide and varied shopping opportunities.
The Haw Wood Farm Caravan Park offers excellent camping facilities and will be the base for activities such as the car displays, trade tents and spares/swap shops.  For those who would like a self-catering option there are two, four and six berth lodges available for hire next door, at High Lodge.  The area offers great walks locally and some lovely lanes for cycling. The overnight camping and caravan park is quiet, with spacious pitches for a relaxing time and is but a short walk away from the activity centre. For members staying here, there are modern amenities including a cafe, shower and toilet block, disabled facilities and a small well stocked shop. 
The park regularly holds 'star gazing weekends', as the area is particularly free from light interference and reputably has the clearest skies in Britain. In addition there will be a welcome fish and chip supper on the Friday evening, an event BBQ on the Saturday, a car beauty competition on the Sunday. For those wishing to enjoy a roast lunch prior to departure, this will also be available on Sunday at High Lodge.
Entrance is a bargain at £3 per day for Members and £6 per day for Non-Members.  Meals are available from Highlodge. There are a variety of activities such as Clay pigeon shooting, Air Rifle and Archery and we have negiotiated special prices from High Lodge for these.
Please note: to encourage early booking a small gift will be included for the first 20 received.
Booking forms for all the events are available on the Saab Owners Club website